Is there anywhere in the world you can dress up like a cowboy and shout "yee-haa" and not attract strange looks? The Calgary Stampede is perhaps the only place you'll get away with it and it's a bucket-list location that tops off one of our best-loved Canadian tours.
The Quadrant Difference
Coming from a fourth-generation sheep and cattle grazing family, Ross Keane is one Quadrant's tour leaders and has decades of experience as a livestock agent, buyer and auctioneer. He says Canada and the USA is a huge market for Quadrant's clientele, given they both lead the way in terms of agricultural practise and set the stage for future trends.
According to Ross, Quadrant's point of difference is the ability to blend learning and education with fun and sightseeing. Travelling with like-minded people, with a strong focus on farming and agriculture not only enables lifelong friendships and connections but a greater understanding of trends and practises back at home.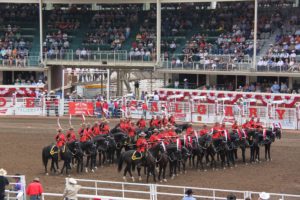 In his experience with Quadrant, Ross says the biggest drawcard for customers is the 'interest' visits they do, understanding the challenges farmers face in foreign countries and comparing them to the challenges at home.
Quadrant's connections over decades of experience in the field have aligned it with some of the world's top Agricultural Tourism companies. Ross says, forging these bonds allow access to the right places and ensures a quality program.
Tour Highlights
But while agriculture is a passion for our clients, they'll also experience places they've only dreamed of, like the majestic Canadian Rockies.
Come see "the greatest outdoor show on earth", the Calgary Stampede, complete with reserved seats for the highlight Chuckwagon Races and nightly grandstand shows. Then it's west to take in the iconic sights of Banff and the Canadian Rockies. The trip also encompasses the diversity of the country's agricultural enterprises from cattle, cropping and seed production to dairy and cheese-making in Red Deer.
Our mix of USA and Canada tours is as diverse as the countries themselves, and one that should not be overlooked by music lovers is the Legendary Sounds of the USA tour which takes us to places American music legends were born and into the country music capital of the world, Nashville. From Memphis to Graceland and even Dollywood theme park, you guessed it a Dolly Parton themed extravaganza, this is the musical journey of a lifetime and as well as all the toe tapping and boot scooting there's a diverse range agricultural visits from cattle and dairying to cotton, wheat, peanut and soybean crops.
So, what are you waiting for, contact us today and get travelling!